NSW P-Platers Banned from Mobile Phones (handsfree)
So as the NSW government considers introducing the Zero Tolerance P plater laws, they have already agreed to pass a new restriction on P-PLATERS. When this new law is passed late march or early april, all P platers will be banned from using mobile phones while driving. Now this might not come as big news since mobile phones have been banned for some time, but this new law doesn't just target mobile phones but also Bluetooth, earpieces or hands-free devices will be outlawed in P-plated vehicles.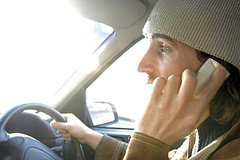 The phone ban will mean first-year drivers caught texting or talking on mobile phones more than once will automatically lose their license. The only way P platers will be able to call friends and family will be when they are pulled over to the side of the road with the vehicle stopped and the engine off. The sad thing is, you actually have to turn the engine off, cause a possible road hazard in order to answer an important call, even if you have a bluetooth car kit.
What I really want to know though, is how are the police going to monitor inbuilt and wired in bluetooth mobile phone systems? All new high end vehicles come with built in mobile phone integration technology. Are the police going to simply start pulling over any young driver who is talking in their vehicle? What about Australian idol wannabes singing in their cars? What about those of us who talk to ourselves?
The NSW government, like other governments has gone crazy with the P-plater restrictions, this is mainly due to the rising death toll of P platers with a near 30% increase in 2006 (94). So since the high powered car restrictions have no worked, they are trying to come up with more intuitive ways of stopping P platers accidents. Unfortunately, again, this isn't one of them!